Game of Thrones | Review – The Ghost of Harrenhal – S02E05
A cada episódio uma emoção diferente, onde as alianças estão sendo feitas e outras já estão tomando seu rumo para a guerra. Não há como negar que
Game of Thrones
é umas das melhores séries da atualidade, não apenas pela suas histórias, mas também pelo seu cenário, figurino, fotografia e atores.
The Ghost of Harrenhal começa dando continuidade ao episódio passado Garden of Bones onde Melisandre gerou uma criatura negra, está que foi em direção a Renly Baratheon e o apunhalou perante Brienne e Catelyn Stark, bem na hora que Renly formalizava apoiar Robb Stark e declará-lo Rei do Norte, e ele Renly ficaria com o Trono de Ferro. Coitada de Brienne acabou sendo acusada pele morte do Rei, logo ela que daria sua vida pelo Rei.
Com essa morte Stannis Baratheon aumenta seu exercito por ficar com os homens de seu irmão, mas a conversa com Davos Seaworth foi bastante interessante, por dois pontos, primeiro por Davos temer a conquistas de Stannis por estar ao lado de Melissandre e segundo por está conversa Stannis deixar Melissandre na cidade e não levá-la contigo, o que pode gerar um descontentamento por parte da bruxa.
A relação de Stannis com Melisandre a meu ver não passa de interesse da parte dele em o que ela pode lhe representar, ou seja, a vitória. A saída da cidade da família Tyrell antes de Stannis chegar para evitar se humilharem diante dele foi à idéia mais certa, Loras Tyrell sentiu mais a dor da perda de Renly do que sua esposa Margaery Tyrell.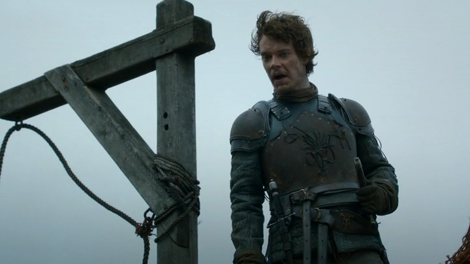 Theon Greyjoy de vez quer mostrar seu valor ao pai Balon Greyjoy e sua irmã Yara Greyjoy e partindo junto com seus homens para tomar Winterfell, além de sua família, ele primeiro precisará ganhar o respeito de seus tripulados se quiser ter êxito na invasão.
Agora fico imaginando Winterfell com Bran Stark no comando e a maioria dos homens da cidade na guerra com Robb, será que conseguiram proteger a cidade das investidas Theon, acho meio difícil. Outro ponto que tem ficado bastante enigmático são os sonhos do garoto Bran, agora sonhando com a água invadindo o castelo, fora ainda, a história do corvo de 3 olhos, o que certamente deixou Osha mais pensativa.

O clima entre os Patrulheiros da Muralha é de total atenção desde a saída das terras de Craster, tudo isso por conta dos Outros e do possível ataque que podem receber. Jon Snow junto com Qhorin tenta uma jogada de surpresa para que possam matar Mance. Jon finalmente tem a chance de ser um soldado e o seu lugar sendo ocupado por Sam Tarly ao lado de Lorde Mormont.
Tyrion Lannister é outro que teme pela sua vida por conta das atitudes de Joffrey Baratheon como Rei. O Rei tem a imagem pela população de ser manipulado pelo seu tio Mão do Rei, apelidado de "macaco demoníaco", será que a população não percebe que o Rei que é um louco e Tyron apenas tentam "ajudá-los".

Tyrion não cansa em se meter nas tramóias da irmã Cersei Lannister, agora ele descobrindo sobre o "fogovivo" que Hallyne vem fazendo. Ele ao mesmo tempo preocupado com a cidade por temer uma explosão vê ali também uma vantagem, e pega para si e ainda dá o ultimato para a produção ser para ele agora. A história sobre o "fogovivo" foi interessante, uma vez sendo usado por Aerys Targarien depois das mortes dos Dragões.
O plot envolvendo a garota Arya Stark e sua conversa com Tywin Lannister foi bom de acompanhar, achei que ali ele iria descobrir sua verdadeira identidade, mas a menina foi esperta e conseguiu se sair muito bem, além de quebra dá uma alfinetada ao falar de seu irmão Robb e de seu lobo, Grey Wind, e ainda falando coisas que deixaram Tywin bem feliz.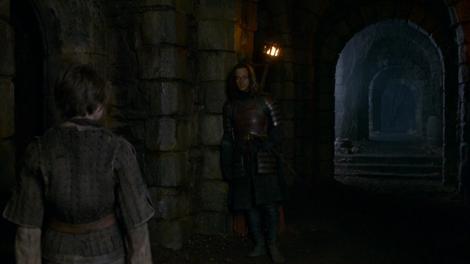 O personagem Jaqen H'ghar vem dar um ar a mais à série por servir ao Deus Vermelho, e ele lhe dever 3 vidas por conta dele e de seus companheiros serem salvos por Arya. Agora a garota pode escolher 3 vitimas e ainda podendo escolher quem ela quiser. A sua primeira vitima foi Tickler, quais serão as próximas? Será que a sua listinha negra ditada no episódio passado começara a ser realizada?

Jaqen: O Deus Vermelho pega o que é dele, garota adorável. E só a morte pode pagar pela vida. Você salvou a mim e aos outros dois. Roubou 3 mortes do Deus Vermelho. Precisamos devolvê-las.

Já em Qarth o que eu imaginava estava certo, Xaro Xhoan Daxos não foi apenas gentil, ele fazendo a proposta para ter Daenerys Targaryen ao seu lado prova isso. O que a mulher misteriosa falou para Jorah Mormont foi interessante foi ser pura verdade, "Daenerys será cobiçada e isso será muito perigoso para ela e seus dragões". Xaro oferece ainda toda a estrutura para ela conseguir voltar ao trono, agora fico na ansiedade para saber como se dará está história.
São tantas histórias acontecendo e como é interessante observar o time dado a cada uma, agora é aguardar o próximo episódio.
O que acharam do episódio? Compartilhem suas opiniões!!!!
Curtam nossa pagina no Facebook

Seus comentários são sempre muito bem-vindos, pois assim temos mais motivação em continuar postando.