The Simpsons | Review – 24×08: To Cur With Love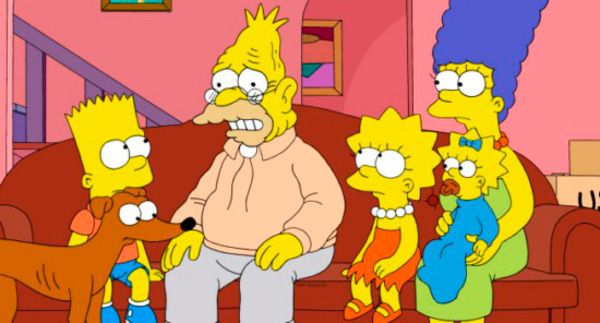 Incêndio em asilo, cão perdido e Homer deprimido, mais um típico episódio.
Um episódio bem cômico e com um enredo bem variado, deve ser a melhor definição para esse oitavo episódio dos Simpsons.
Começando por uma competição sobre a melhor "engenhoca" cientifica, claro que houve méritos para o cientista da cidade, mudando para a chegada do vovô Abe na residência dos Simpsons e sobre a desatenção com suas obrigações do Homer, para gastar seu tempo com um joguinho em seu tablete.
Só foram precisos 5 minutos para darmos boas gargalhadas e ver fatos bem engraçados (como a muito tempo faltava nos episódios dos Simpsons). Destaque para as escavações no quintal dos Simpsons (mero exagero), a expressão de solidariedade ao saber que teriam de receber o vovô em casa (mera ironia) e de ver a escola de Springfield pegar fogo no passado e o Homer só olhar (mera tradição dos homens da família).
O episódio ganhou um ar mais centrado quando o cão da família, o "ajudante do papai Noel" desaparece e como culpado pelo desaparecimento do cão, acusaram o Homer. O "ajudante de papai Noel" retorna e com ele a história de Homer com um cão em sua infância.
Em um breve resumo, o Homer em parte de sua infância foi bem ligado ao seu cão Bongo, porém teve que se afastar de seu cão, desde então, a sua situação com seu pai não foi a mesma. Homer nunca conseguiu perdoar seu pai desde então.
Porém no final da história, as peças se encaixaram e o pai e o filho se perdoaram. Achei um ótimo episódio, bem digno do tempo de glória do cartoon, não houve nada de personagens desconhecidos, ou famosos ou histórias sem pé nem cabeça. Foi tudo mantido na realidade, simplicidade, com muita cena de humor e uma historinha um pouco triste e que teve final interessante.
Nota 10.0 ao episódio
André Luiz

Divido minha paixão entre os números,livros, filmes e seriados. Cursando engenharia civil,dedico o restante do tempo a Hobbies como escrever, correr e desenhar.A ,sim, eu tenho vida social.

| | |